September 25, 2015
There are some places along the River Kennet and its tributaries where we know pollution is entering the river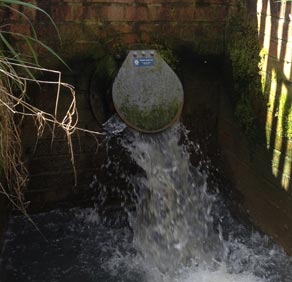 These sites includes sewage treatment works and industrial premises with discharge consents issued by the Environment Agency to regulate what level of pollution they are allowed to cause.
Where the Kennet and Avon Canal joins the River Kennet, dirty canal water enters the relatively clean chalk stream. This is creates significant water quality and turbidity problems. The problem is particularly visible at Copse Lock (SU4167) upstream of Newbury. There is no easy solution to this problem, but a number of measures to improve the quality of canal water are in place, including the construction of bypass weirs, and the Kennet Catchment Partnership is working on a strategy to reduce pollution entering the canal and the River Kennet.
A spill of Chropyrifos pesticide into the Kennet in Marlborough in July 2013 is still having an impact on the ecology a year later. Scientists are studying the long term impact of this devastating chemical. See the BBC report here and read about the latest science here.